Neighborly Service Since 1936
We make it easy to find furniture you love.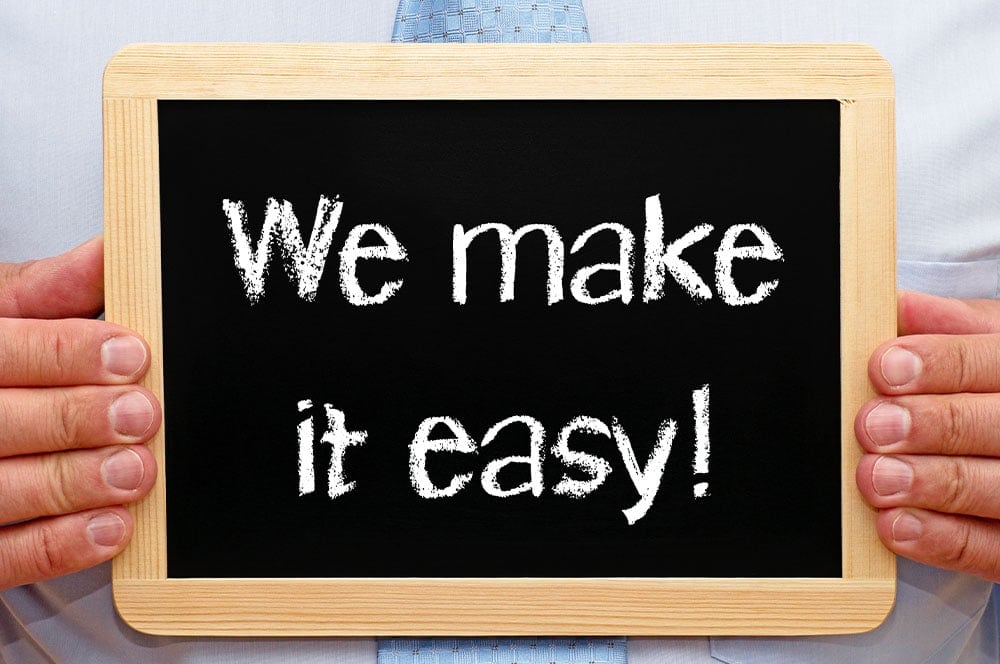 Deciding to purchase new furniture for your home is exciting… until it isn't. We know how exhausting it can feel to shop for the perfect piece. With so many choices, it can be hard to know where to begin and what questions to ask.
At Reinholt's Town Square Furniture, we're in the business of taking great care of people, especially when it comes to finding the perfect furniture for their homes.
For the past 86 years, four generations of our family have been committed to one simple mission: We make it easy for people to get furniture they love from a trusted source who is on their side.
Get the help you deserve.
We'll help you find the pieces that are right for you, not what's right for a sales quota.
Avoid costly surprises.
We believe in offering genuine value — great products, fair pricing, no gimmicks.
Never lift a finger.
We deliver, set up your new furniture, and take away the piece you're replacing.
"What a wonderful furniture store. I love small towns and personal service in a locally-owned business. I will go here first anytime I need furniture and I will suggest to my friends that they try here if looking for furniture!! Thank you so much!!"
– Linda W.
"The folks at Reinholt's are so friendly and helpful. It is a no-pressure, 'how can we help you' kind of place that has not just quality furniture, but also quality people. We recently got a new La-Z-Boy couch from Reinholt's. The young guys who delivered the couch and took away our old sofa were just as kind and polite as well as careful with all that needed moving."
– Janine S.
"We have purchased nearly all our furniture at Reinholt's for over 10 years. The quality is excellent and their prices are fair. Friendly family salespeople and excellent delivery."
– Don B.
"Keith, Brent, and the rest of the staff are people-oriented and their service is outstanding. They are very knowledgeable about their products and their free delivery and set-ups are great. Great place to do business!!!!!!"
– Dan P.
"5 stars! Excellent customer service! Friendly workers! So happy with my furniture purchase. Quick delivery too."
– Stephanie J.
"After our locally-owned furniture store in Wabash went out of business, I went to Reinholt's in Warsaw. A couple people had recommended them to me and I am so thankful they did. Andy was friendly, helpful, and patient with me as I made my choices. Communication and delivery after the sale was top-notch. I am so happy to have found a family-owned business that really knows how to treat the customer."
– Linda S.
"Mike and the whole team at Reinholt's are absolutely amazing!! They take their time with you to make sure you get exactly what you want. Also, they go above and beyond to make deliveries happen!! HUGE shoutout to Garrett and Seth for helping me move a couple things, unloading and setting up our new furniture. Such polite young men!!"
– Julie S.
"I went in looking for a new recliner and also a new mattress. Andy was very helpful and informative about everything I was looking for without any pressure sales. Excellent family-oriented business that can handle all of your home needs. 5*****"
– Kevin H.
"Reinholt's Town Square Furniture is the best furniture place ever! The people are so kind, we had the pleasure of meeting with Mike and also Keith & Brent, and Steven who delivered our incredibly wonderful new sofa! We couldn't be more happy with our purchase and also the people. If you're thinking of purchasing a new sofa or any kind of furniture, do yourself a favor and buy from Reinholt's."
– Zarissa W.
Located in downtown Warsaw, Indiana, Reinholt's Town Square Furniture has been helping our neighbors find furniture they love for four generations.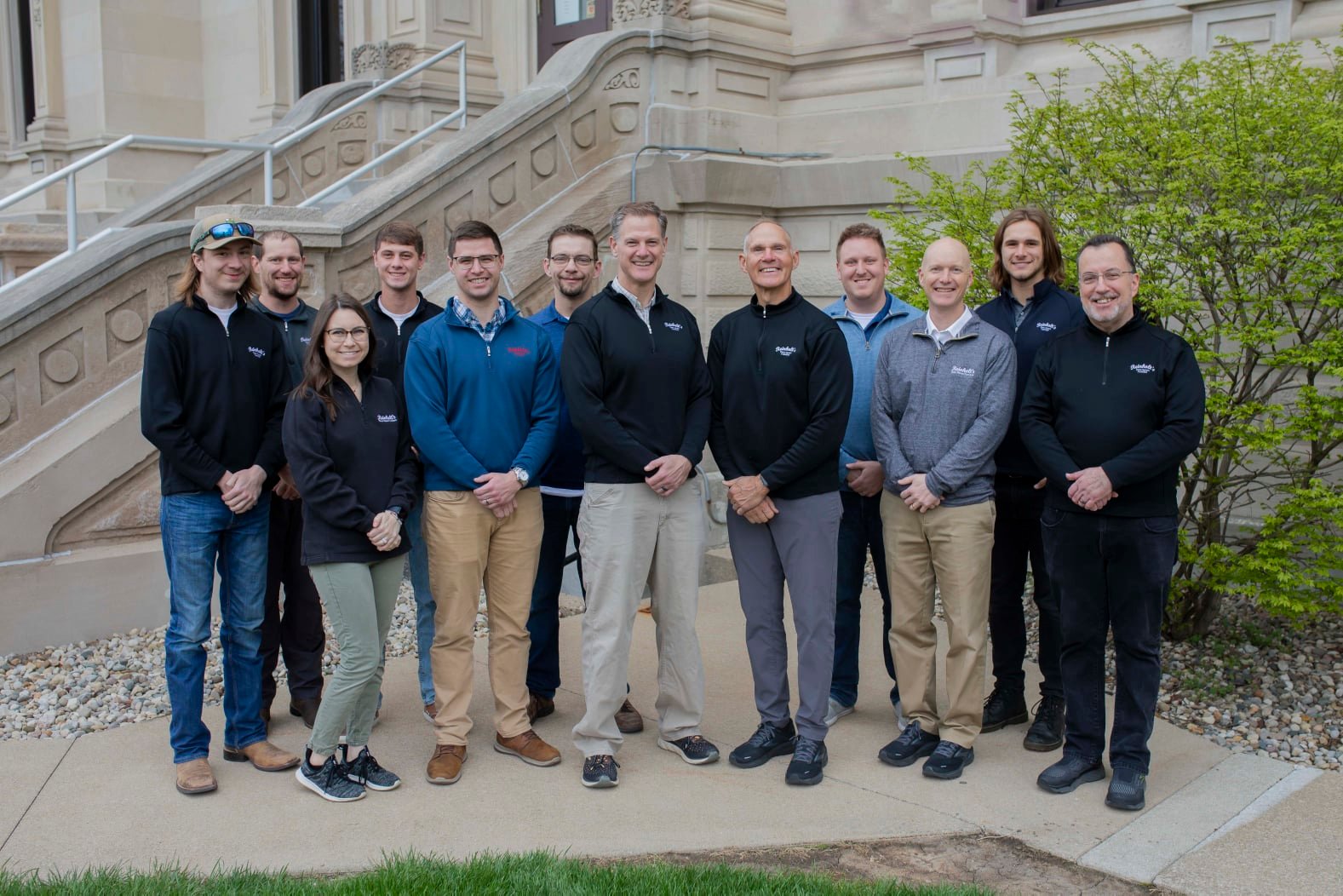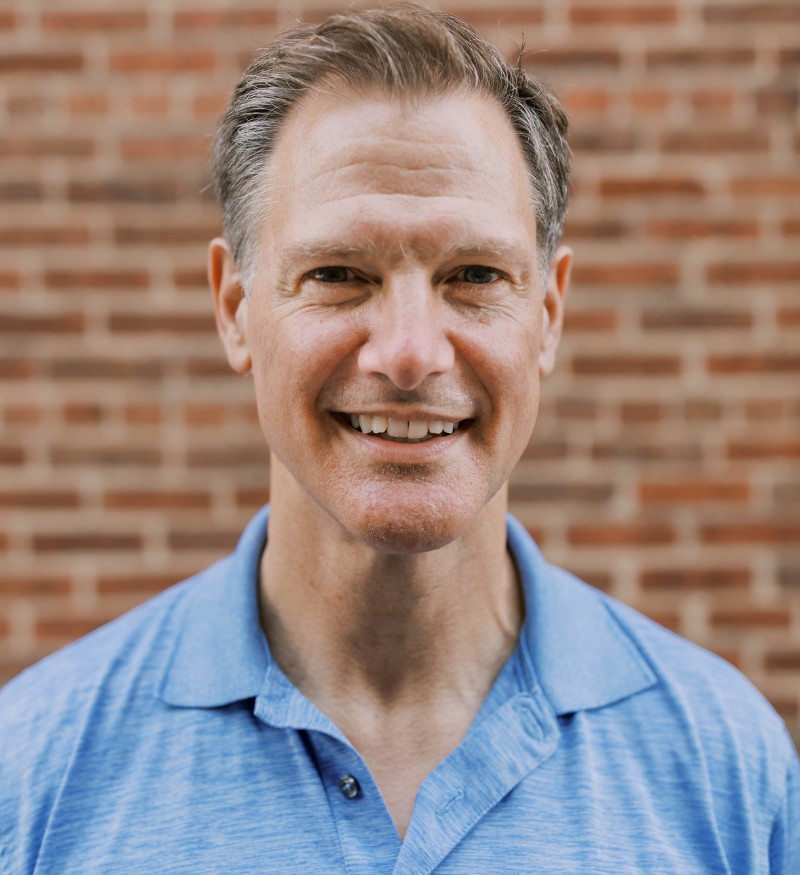 More about Brent.
Brent has been working in the family business since his days at Warsaw High School, spending his summers unloading, assembling and delivering furniture. After graduating from Taylor University, he worked in accounting and sales for a few years before returning to Reinholt's in 1992. Brent and his wife Tracy have four sons, two daughters-in-law, two awesome grandsons and one incredible granddaughter. Brent enjoys mud runs and obstacle course races such as Spartan, Savage and Tough Mudder. He also enjoys triathlons and is currently training for his second Ironman triathlon.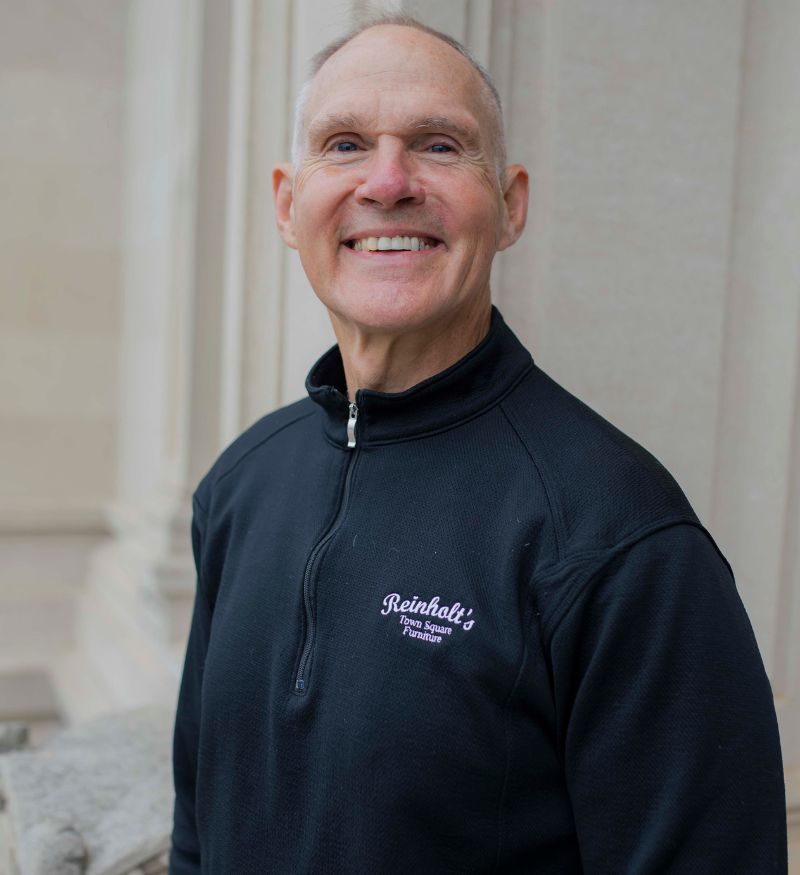 More about Keith.
Keith started out on the furniture delivery trucks in the 1970s. After graduating from Taylor University in 1982, he split his time between the furniture store and teaching middle school, where he coached football also. In 1984, Keith went full-time at the store and continued to coach for several more years. Keith and his wife Cindy recently celebrated their 42nd wedding anniversary. They have three sons – Tyler, Trevor and Tommy, and one grandson Louis.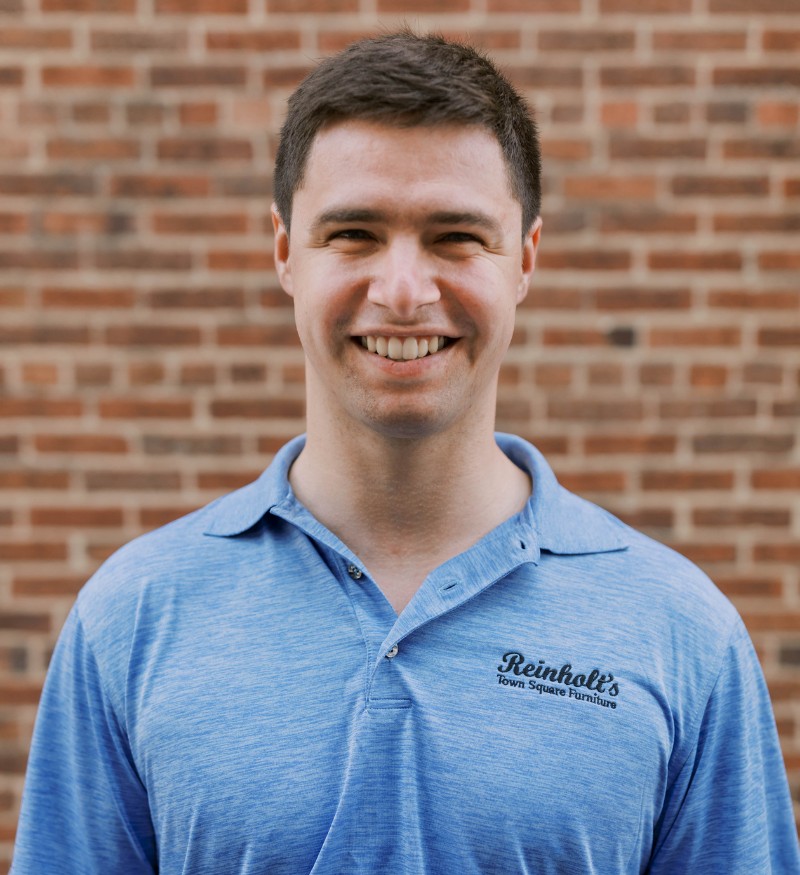 More about Steven.
Brent's son Steven is fourth generation in the family business. After attending Grace College, he joined the family at Reinholt's where he enjoys the behind-the-scenes flow of information and products. Steven and his wife Izzy will soon be celebrating the second birthday of their daughter Ava Rose. Steven enjoys listening to music, catching up on movies and spending time with his family and pets. He also enjoys riding his bike in the trails in Winona Lake.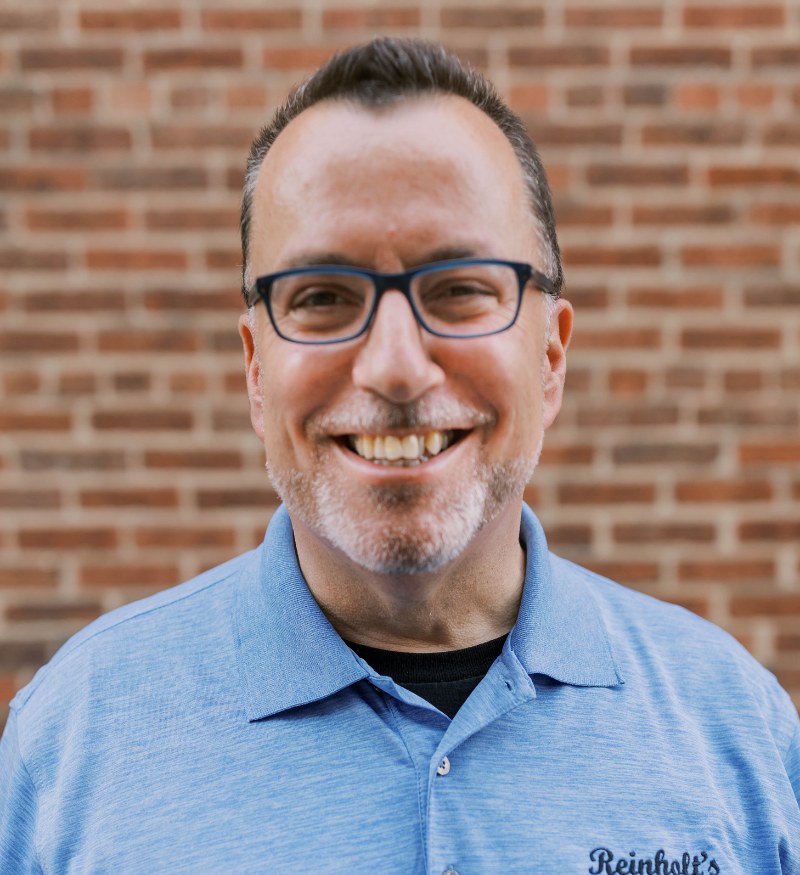 More about Michael.
Michael has been with Reinholt's since 2015. Born in England and raised in Chicago, he has been a Hoosier since the age of 16. Michael is a 1986 graduate of the Columbia School of Broadcasting in Indianapolis and is a 25-year radio veteran. A lifelong guitarist in multiple bands, including the 661st Air Force Band, Michael is a member of the First United Methodist Church in Warsaw and is in the Praise Band at The Connection. Along with occasional announcing duties, he enjoys spending time with wife Peggy, traveling to new places and watching IU basketball!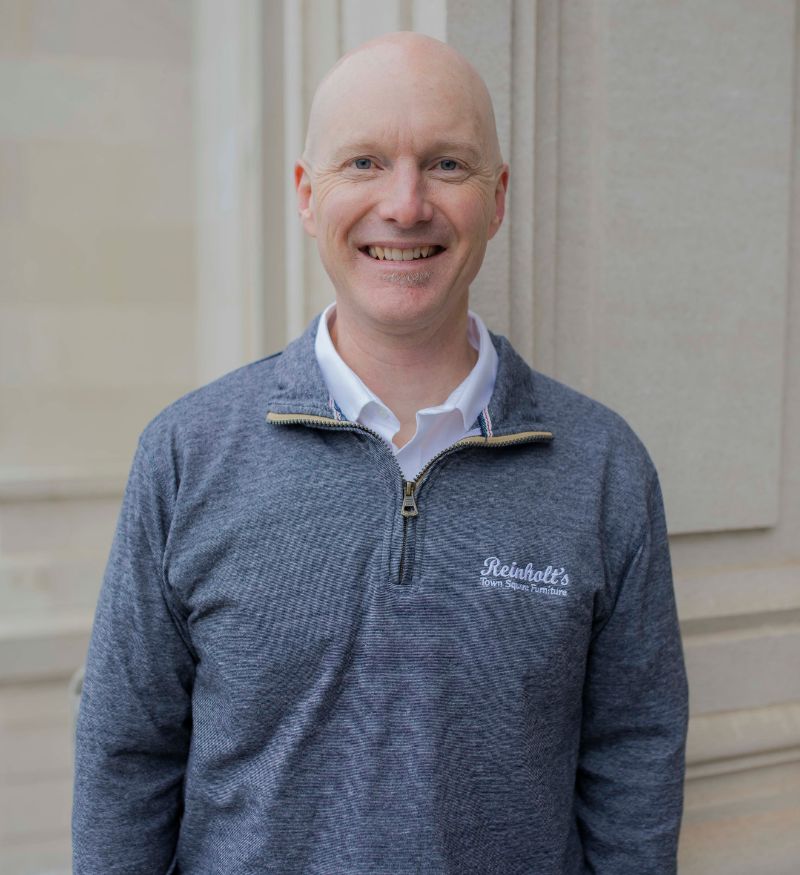 More about Andy.
Andy is a 1993 Warsaw Tiger and graduated from Indiana University in 1997. Andy and his wife Angie have three children: Drew, J.W. and Alyssa. Prior to joining Reinholt's in 2018, Andy spent four years as Park Director of the CCAC, 10 years as a John Deere sales representative and one year with the Kosciusko Chamber of Commerce. He has volunteered many years with Warsaw Little League and Warsaw Community Church. In his spare time, he enjoys hunting, exercising and cheering on the Indiana Hoosiers.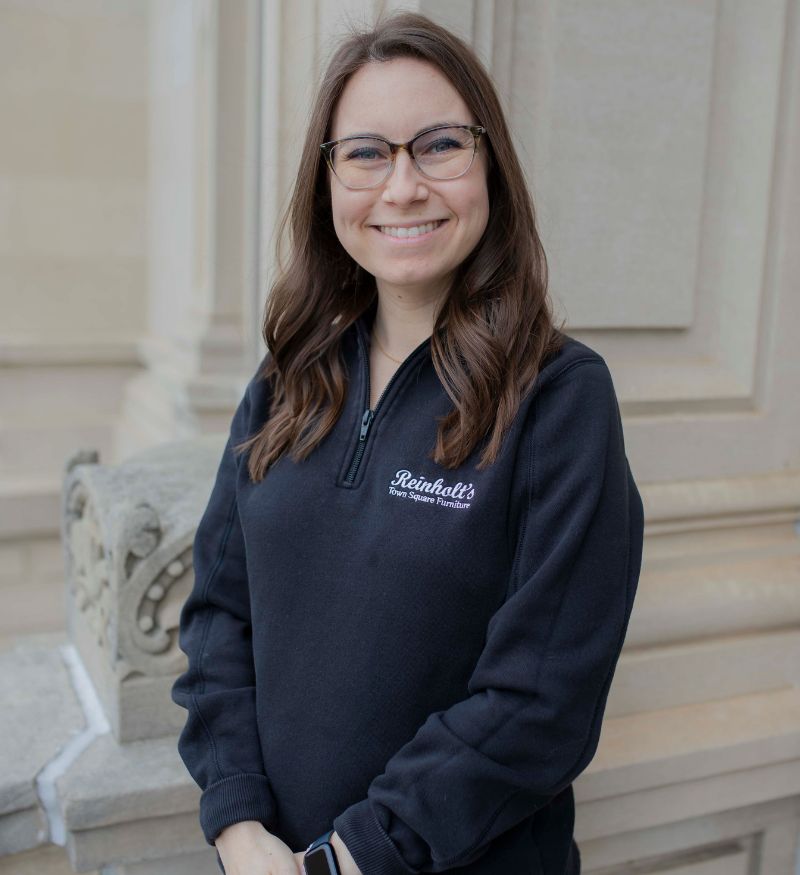 More about Hannah.
Hannah started working at Reinholt's in 2021. Originally from Wadsworth, Ohio, Hannah moved to Warsaw after completing undergrad at Anderson University and graduate school at Logan University in St. Louis. Prior to working at Reinholt's, Hannah was the coordinator of Cardiopulmonary Rehab at Elkhart General Hospital. In her spare time, Hannah enjoys traveling and spending time with her husband Brody and their sons, Jackson and Lincoln.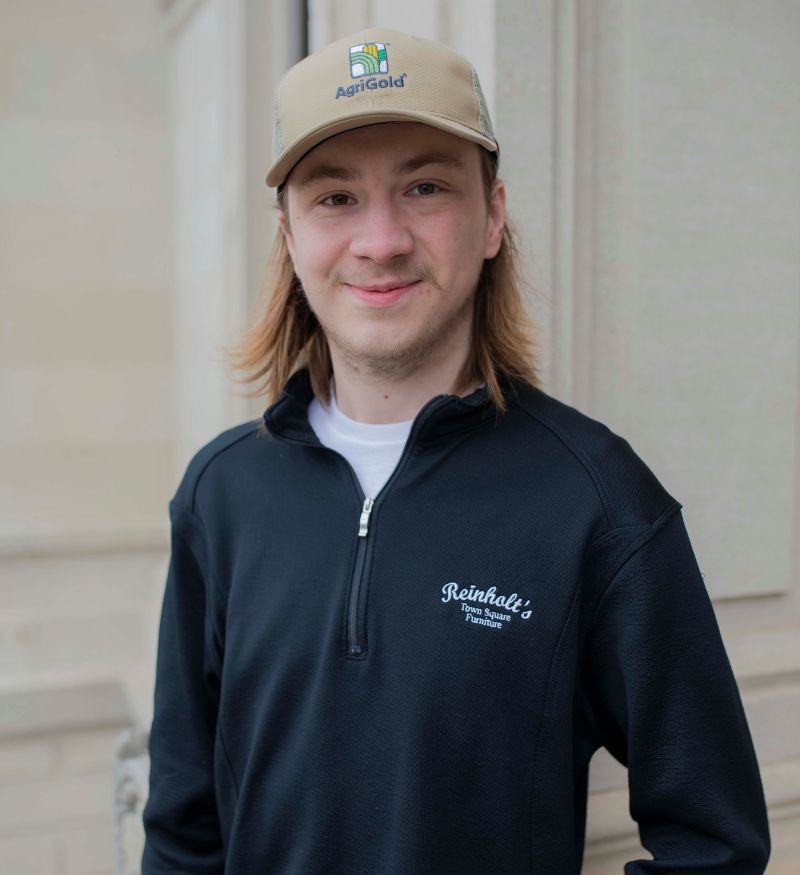 More about Seth.
Seth has been with Reinholt's since 2018. He's a jack-of-all-trades who always puts the customer first. There's considerably more to delivering than what immediately meets the eye. It starts with unloading semis, organizing the warehouse, unpacking and assembling merchandise, all before finally loading our trucks for delivery. In-between those things, Seth also helps take care of service issues to be sure everything is in great long-term condition for our customers. Seth is a hard worker, but can also appreciate a little downtime on the far away deliveries. While it's nice to have the occasional breather, it's also a good reminder to each of us that some people drive a very long way to do business at Reinholt's. Seth's favorite item of furniture at our store is a leather La-Z-Boy recliner sofa. He says you can't go wrong kicking back after a long day! You'll love watching Seth in action the next time he's in your home. Just be sure to keep him off your couch if it's been a really hard day.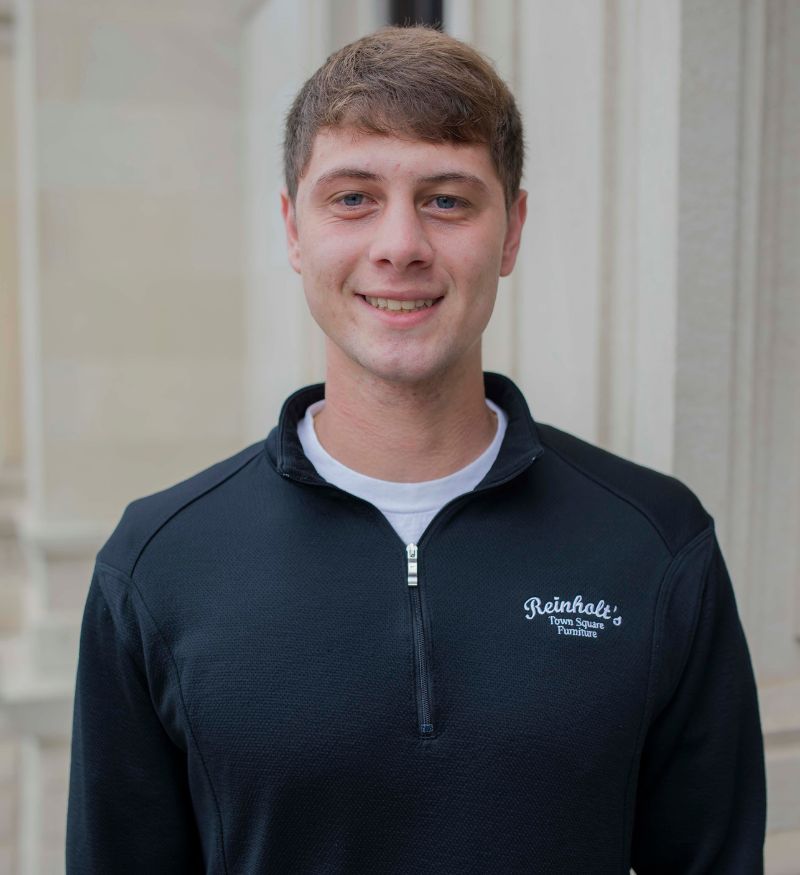 More about Garrett.
Garrett is the youngest of Brent's sons. He is a 2019 graduate of WCHS and was involved in varsity soccer. Garrett started working full-time at the furniture store the Monday after graduation, but has been around the business his entire life. When you make a purchase from Reinholt's, there's a good chance you'll get a heads-up phone call from Garrett saying they will be there shortly. He'll also greet you at the door and introduce the delivery team that will set everything up. Garrett's favorite part of working at Reinholt's is the excitement that customers show when he helps bring in their new items. Everyday, people act like it's Christmas. His favorite item of furniture at our store is a comfy La-Z-Boy rocker recliner with a swivel base so he can move in any direction. Be sure to show Garrett some love the next time he comes to your house. Maybe even throw in a Merry Christmas while you're at it.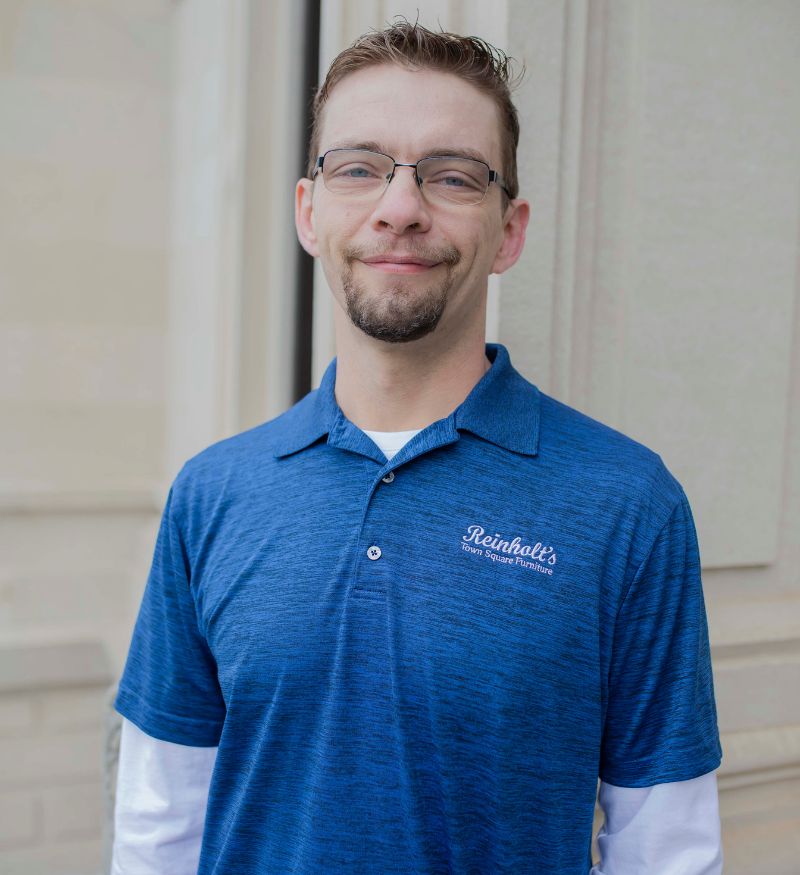 More about Chad.
Chad has one of the busiest and most valuable roles on the team. He juggles multiple responsibilities that all feed into serving our customers, both before and after the sale. He began with us in 2007 on the delivery crew. As business expanded, Chad's role shifted to be in charge of unloading shipments and preparing items for either delivery or the showroom. Then he expanded into the lead role in our Service Department. Over the past two years, as inventory skyrocketed, we've relied on him to keep our warehouses organized. Not easy! Chad's favorite part of working at Reinholt's is helping people – and he does it every day. His favorite manufacturer is Superior Furniture, an Amish company that builds the nicest, solid wood dining groups. Whether behind-the-scenes or in a customer's home, Chad makes sure that furniture from Reinholt's meets everyone's expectations. His ability to juggle multiple things at once comes in handy, but every time the circus comes to town we fear they are going to take him away.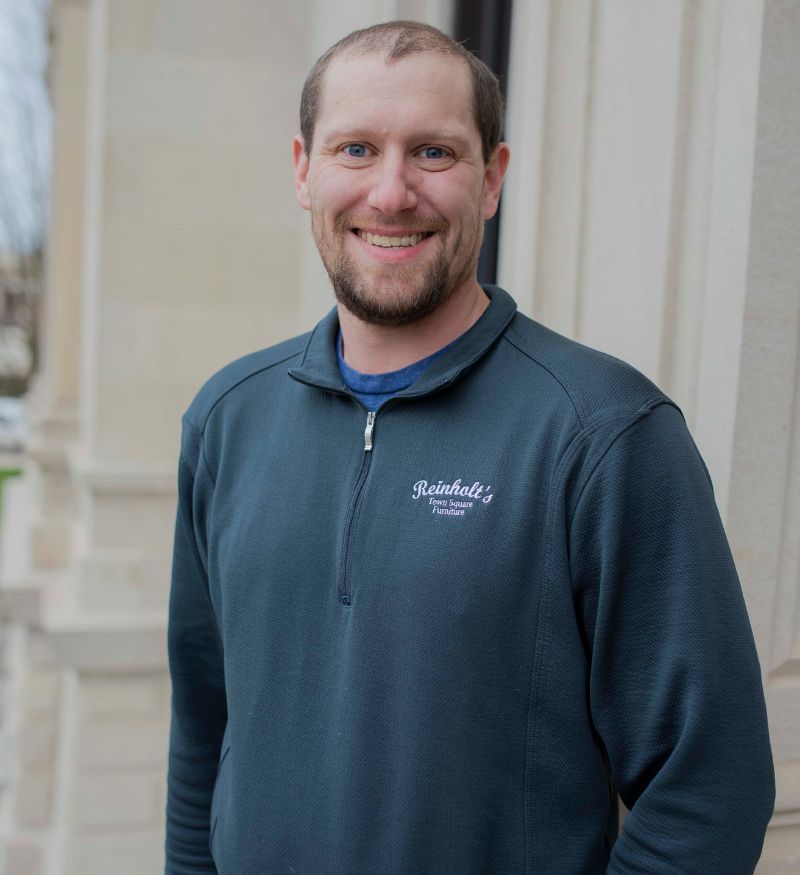 More about Nick.
With so much rapid growth happening last year at Reinholt's, we had need for more manpower and were blessed to add Nick to our team. Our goal is to always exceed your expectations when it comes to the delivery. Doing it the right way takes more than muscle – it also takes an emphasis on kindness and helpfulness. Nick is a great fit because he naturally enjoys doing things for others. Nick's favorite thing about working at Reinholt's is the emphasis on family and the flexibility to prioritize family needs ahead of work responsibilities. His family consists of his wife Kayla and their two daughters, Izzy and Charlotte. Nick's favorite item of furniture at Reinholt's is a La-Z-Boy recliner. It doesn't even matter which one. He says they are all comfortable! Whether your delivery is big or small, you can always count on Nick to serve you with a smile. And just so you know, if he spends 10 minutes testing out your La-Z-Boy recliner, there's nothing wrong. It's just really comfortable!
home is where you
should feel your best.
Your furniture should invite you in - not scare you away.
Get furniture you can count on from a team who won't let you down.